NRDCS-MASAA Life Time Achievement Award
Nominations are solicited for the annual Life Time Award sponsored by Natural Resources Development Co-operative Society (NRDCS) jointly with Mahadevan' Students and Admirers Association (MASAA)
Eligibility: Teaching faculty/Research Scholar/ Professional in Earth Sciences

Age: 70 years plus to encourage persons pursuing work even after retirement.

Award Jurisdiction: Pan India

Award includes a citation, souvenir, a shawl and cash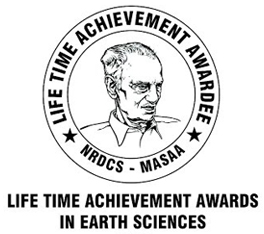 Nomination can be made by educational institutions, Universities, professional organizations like the Geological Survey of India , ONGC, NGRI, AMD, NRSC, CGWB etc., private organizations like Wadia Institute of Himalayan Geology, Geological Society of India and also by members of NRDCS and MASAA.
Self nomination will not be entertained.
Nominations along with a write up on salient contributions of the nominee may be sent on or before 31-10-2019 to

NRDCS Ltd.
3-5-886/4/A, 3rd Floor, SL SQUARE.
Himayat Nagar, Hyderabad-500029

Email: nrdcs@rediffmail.com

Award Function: It will be presented during annual foundation day function of MASAA which is normally held in December.