Structures and foundations are often located in topographically complex areas or rock formations that can not be accurately characterized with conventional geotechnical exploration techniques. Barr has the experience with coastal and continental geology necessary to evaluate the engineering and structural geology of a site and to determine potential impacts on foundations, structures, and facility sitting. Our team of geotechnical engineers assesses site grading and construction requirements and evaluates and mitigates existing or potential geologic hazards.
We bring to your project skills acquired on a wide range of projects involving buildings, railroads, open-pit and underground excavation and mining, tunnels, pipelines, dams and landfills. Barr focuses on geotechnical consultation, usually establishing a drilling and testing program and then subcontracting routine available services. This reduces unnecessary mobilization and selection of better quality and/or lower cost service. At the same time, we provide specialized services and equipment to support no routine problems and issues.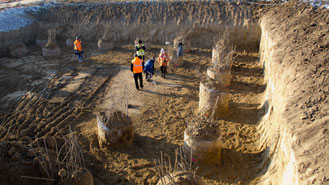 Range of Services:
-

Conducting Diamond core drilling, collection of disturbed & undisturbed soil samples.
-

Engineering geology studies for high-rise buildings, bridges & tunnels etc.
-

Conducting Standard Penetration Tests, Cyclic Plate load tests, Dynamic Cone Penetration tests.
-

Conducting in-situ single & double packer permeability tests.
-

Conducting lab tests on soil/rock for evaluating the Engineering properties.
-

Evaluation of Safe Bearing Capacity
-

Any other in-situ / lab tests as per IS requirement.